La comunidad de Humboldt hace mitin en Eureka por Palestina 
El 8 de noviembre alrededor de 20 miembros de la comunidad de Humboldt gritaron a coro "Huffman, Huffman no puedes esconderte; estas apoyando un genocidio!" fuera de la oficina de distrito del diputado Jared Huffman en Eureka antes de marchar hacia la Suprema Corte del Condado de Humboldt a unas cuantas cuadras.
"Al otro lado de la frontera de Gaza, cientos sino miles de vidas inocentes palestinas se perderán mientras Israel le devuelve el golpe a Hamas. Mientras yo insisto a Israel que haga todo lo posible para evitar y minimizar la pérdida de vidas inocentes de palestinos, ciertamente habrá daño colateral," Huffman dijo en un comunicado el 9 de octubre.
El mitin, organizado por una estudiante de trabajo social en Cal Poly Humboldt, Athena Berdis, se reunió a protestar el comunicado que Huffman dio en apoyo hacia Israel y a exigir un cese de fuego entre Israel y Palestina.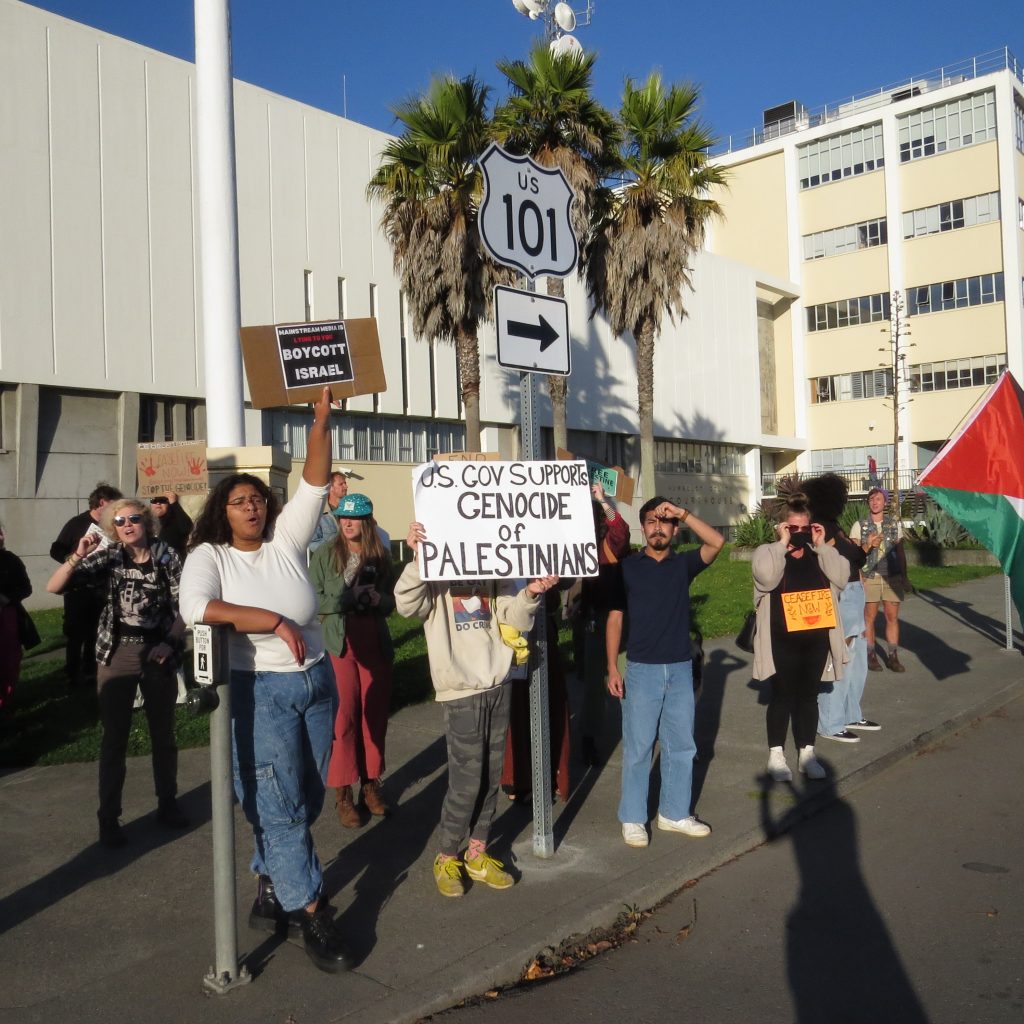 "Me molesté mucho sobre la declaración que él hizo y quería hacer algo al respecto," dijo Berdis.
United Nations Relief and Work Agency (UNRWA) sube las últimas noticias en su sitio web sobre el conflicto. Desde el 15 de noviembre, reportaron que 11,078 personas fueron asesinadas en la Franja de Gaza, dos tercios de estas personas fueron niños y mujeres según el reporte.
Las últimas noticias de UNRWA reportan a 1,200 israelitas y nacionales extranjeros asesinados en Israel.
"Lo que espero conseguir con esta demostración es que la gente reconozca y admita lo que está pasando en Palestina, y una resolución de cese de fuego respaldada por Jared Huffman," dijo Berdis. "Es importante que pase un cese de fuego porque necesitamos salvar más vidas."
Lawrence Dahms, un estudiante de cine de Cal Poly Humboldt, dijo que él siente que era importante presentarse y mostrar solidaridad hacia los palestinos.
"Palestina está sufriendo pero hay gente en el condado de Humboldt que están en contra de eso y si nos unimos nos podemos asegurar que nuestras voces sean escuchadas," dijo Dahms.
Organizers of Humboldt for Palestine planean más mítines en el Eureka Courthouse como apoyo a Palestina cada viernes de 3-5pm.