Students and faculty speak out against new housing policy
On Feb. 8 there was a speak-out organized by students outside of the Student Activities Center to protest a new housing policy. The policy states that on-campus housing will no longer be provided for returning students but will be reserved for incoming freshmen. Students that would like to continue receiving housing on campus will be placed in temporary housing off campus at the Super 8, Motel 6 or the Comfort Inn.
The speak-out began at 11 a.m. and students gathered around a microphone and speaker setup. On the balcony of the SAC, students ziptied signs that said "Cal Poly Homeless" and "I don't want to be homeless." Student speakers shared stories of living in the dorms, their own personal experiences with homelessness and what could come if the new housing policy continues.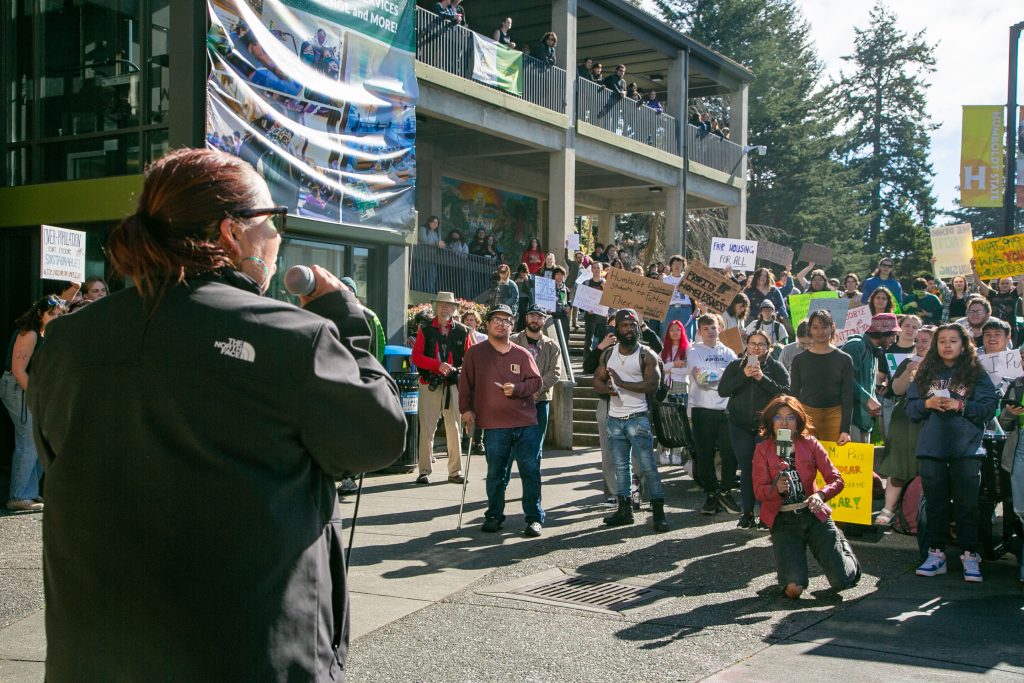 "Me and my dorm mates are trying to scramble to find some sort of place that we can pay rent," said Peter Castillo, a freshman. "Which is a nightmare in itself because the housing crisis up here is absolutely insane and there's not many options…I don't want to live in a hotel again."
Students criticized President Tom Jackson Jr. in the decision making and chalk graffiti read on campus "Education over Profit" among more derogatory statements about the Cal Poly Humboldt president. The president drew the ire of students because of how much he is paid and the fact that Cal Poly Humboldt has reported that nearly 46% of students have either low or very low food security according to a study from 2018. President Jackson's salary is $396,150, plus an additional $50,000 for housing, according to the Cal State Executive Compensation Summary from August 2022.
"I want him to recognize the magnitude of these decisions that don't affect, like, his everyday life," Castillo said. "He makes the final decision and goes home every day to a home and a bed and an income while two thousand plus students are displaced or having to search around and it's unfair."
Members of the faculty were also present at the walk-out and they voiced their opinions about the ongoing housing crisis at CPH and how the school should realistically go about providing housing for students being displaced on campus.
"…You need to give alternatives to students," said Marisol Ruiz, who works for the California Faculty Association at the School of Education at CPH. "Where's the fair housing? Where's the affordable housing for our students? I've been here since 2013 and housing has always been an issue. Affordable housing."
CPH reached its all-time enrollment numbers in 2015 at 8,790 students and the housing crisis at the school became more apparent. During the 2015-2016 school year, the university hired Brailsford & Dunlavey Inc. to conduct a housing portfolio, where they found that CPH's housing was "aged" and was "accumulating significant deferred maintenance as it ages and is in objective need of investment."
"Where is affordable housing?" Ruiz said. "'Affordable' meaning like $500 a month. You know, something that's really affordable and realistic. If students are making $20 an hour, they still need to have enough food to feed themselves."
Students that have been attending the university before it became a Cal Poly were also outraged at the new housing policy because of the possibility that they could be housing insecure because of it. Housing insecurity aside, students from minority groups on campus also have to worry about housing discrimination when it comes to looking for a new place to live.
"On campus housing, for me, is not gonna happen because there's racist landlords in town," said Barbara Singleton, a CPH senior, "I just think that maybe that'll be one less student for them at [Cal Poly] Humboldt. That's sad to say but like, where am I gonna live?"
According to housing information on the CPH website, the Super 8, Motel 6 and the Comfort Inn combined only have approximately 347 beds in total for students coming to live there. A statement issued to students currently living on-campus from the university stated, "we are planning to add approximately 1,000 beds to ensure current students have safe and affordable housing options managed by the university."
Students have already been living at the Comfort Inn for the 2022-2023 school year, where they are provided dinner every Sunday as well as a shuttle to transport them to and from campus. Living at the Comfort Inn comes with housekeeping two times a week, a minifridge and microwave for every room and a free continental breakfast every morning.
"It's not the worst honestly…the food in the mornings is definitely not the best food for a college student," said Alex Smith, a CPH senior, "but it's free food, I guess, if you really need it in a pinch…We don't have an actual kitchen to cook with, so we're just living out of a microwave and just going to fast food restaurants or the local supermarket."
Students living at the Comfort Inn have access to limited onsite parking, or if they don't have a vehicle, there's a shuttle or a nearby bus stop that departs every 31 minutes on the hour.
"When I first moved in [last semester], not that many people were using the shuttle system and it was ok," Smith said. "But now that people are actually using it, I've had a few friends that were actually turned away and told that the bus is right there and it comes every half hour, so yeah, that was rather surprising."
There are plans by student activists to have another protest at the Arcata Plaza at 1 p.m. on Feb. 11, and March to the Arcata City Council meeting on Feb. 15 at 6 p.m. to continue to fight for housing security.