Lunar New Year: Locals celebrate Year of the Rabbit
It is the Lunar New Year and the Year of the Rabbit. Millions of people around the world come together to celebrate the Lunar New Year. This year, it started Jan. 22 and ends Feb. 5 and people in Humboldt County are celebrating with family and friends.
The celebration starts on the month's first new moon and ends 15 days later on the full moon. The lunar calendar follows the cycles of the moon which is why it falls on a different day every year. Lunar New Year originated in China, it's celebrated in different countries such as most of Southeast Asia.
"The auspiciousness of this time goes back all the way to what some estimate — 14th century B.C —in rural China where peasant societies began to celebrate the end of the harvest, which then later turned into the Celebration of the New Year," said Tani Sebro, professor at Cal Poly Humboldt in the Department of Politics and International studies, who has done research in Southeast Asia and observed the holiday in Thailand and Myanmar.
The Rabbit
In Chinese culture, there are 12 animal zodiac signs.The rabbit is the fourth animal zodiac and it often represents the moon. The meaning comes from some saying the moon's shadows resemble the rabbit or because of its pure characteristics. The rabbit represents longevity and good fortune. In some households and public places, some will have rabbit symbolizations to bring in that good luck, according to Chinesenewyear.net.
How it is celebrated
Arcata resident, Daryl Chinn, 77, is a Chinese American who has celebrated Lunar New Year since he was a child. For Chinn, and his wife Phyllis, hosting their annual New Year dinner is about "getting together with friends and family and having fun together. And, food!"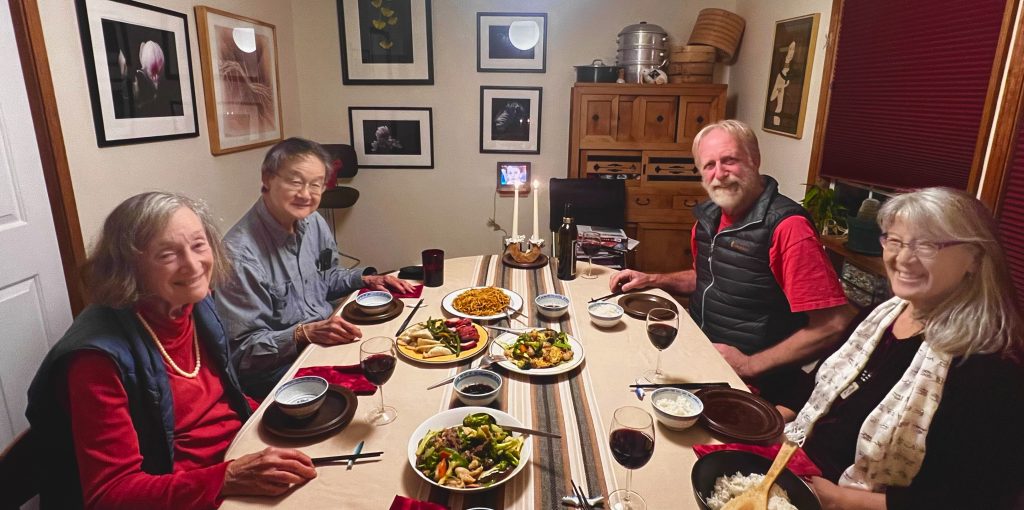 At Chinn's dinner party the table was lit by white candles and filled with plates of long noodle dishes, dim sum, oranges, barbeque pork, long green beans and rice. Food at the table carries lots of "puns" as Chinn put it. Noodles mean life and face, so you eat the long noodles for a long life and good face. Wrapped foods like dim sum are also good luck because like a red envelope, it wraps the fortune.
Elders and married people gift red envelopes to young and single people. These envelopes are usually filled with money or coins; however, it is more common to be filled with an even-numbered amount of money as it is considered more lucky. Numbers like four or numbers ending in four are not accepted or deemed unlucky because the word four in Chinese sounds very similar to the word death.
Ava Mark, 25, identifies as American Born Chinese, and is Humboldt State alumn working at the EOP office at CPH. Mark grew up celebrating the Lunar New Year. At her family's home in Stockton, they had an "ancestral veneration" where they left out plates of food and drinks for their ancestors so they could spiritually consume. Mark said the Lunar New Year has always been one of the most festive times of the year for her.
"They would have lion dancers, play on the big drums and have loud symbols and toss shredded cabbage," said Mark. "And, if you got cabbage thrown at you, that was a good sign you were going to get wealth that year. You always wanted to be in the cabbage rain pile."