Una pareja latinx abrió una nueva barbería y salón de uñas en Arcata
La pareja latinx, Jennifer Murillo y Carlos Bautista abrieron una nueva barbería y salón de uñas llamado, "His and Hers Studio" en Arcata en marzo de 2021.
Murillo, de 22 años, que es originaria de Riverside, llegó al condado de Humboldt para jugar fútbol en College of the Redwoods y obtener una licenciatura en kinesiología. Bautista, de 22 años, creció en el condado de Humboldt y se fue a CR para obtener un título en ingeniería mecánica. Ahora, Murillo y Bautista siguen con éxito en sus carreras en la industria de la belleza.
En el piso de abajo de His and Hers Studio se puede oler un corte fresco de la barbería de Bautista y en el de arriba se encuentra el salón de uñas de Murillo lleno de barniz en las paredes.
Cuando comenzó la pandemia del COVID-19, el trabajo a tiempo completo de Murillo como oficinista le recortó las horas y durante ese tiempo libre extra, recogió un viejo juego de uñas que tenía desde que estaba en segundo de la preparatoria. Algo que su madre le regaló por el interés personal de Murillo en crear arte mientras se hacía un juego de uñas.
"Siempre ha sido muy artística," dijo Murillo. "Desde que era una niña siempre quise ser artista y eso es lo que quería hacer. Pero con el tiempo, me di cuenta de que era difícil vender arte porque puedes tener muy poco público."
Murillo es una técnica de uñas autodidacta. Desde muy joven, vió horas de vídeos sobre maquillaje y aplicación de uñas para incorporar arte como piedras preciosas, pedrería y dibujos en un juego de uñas.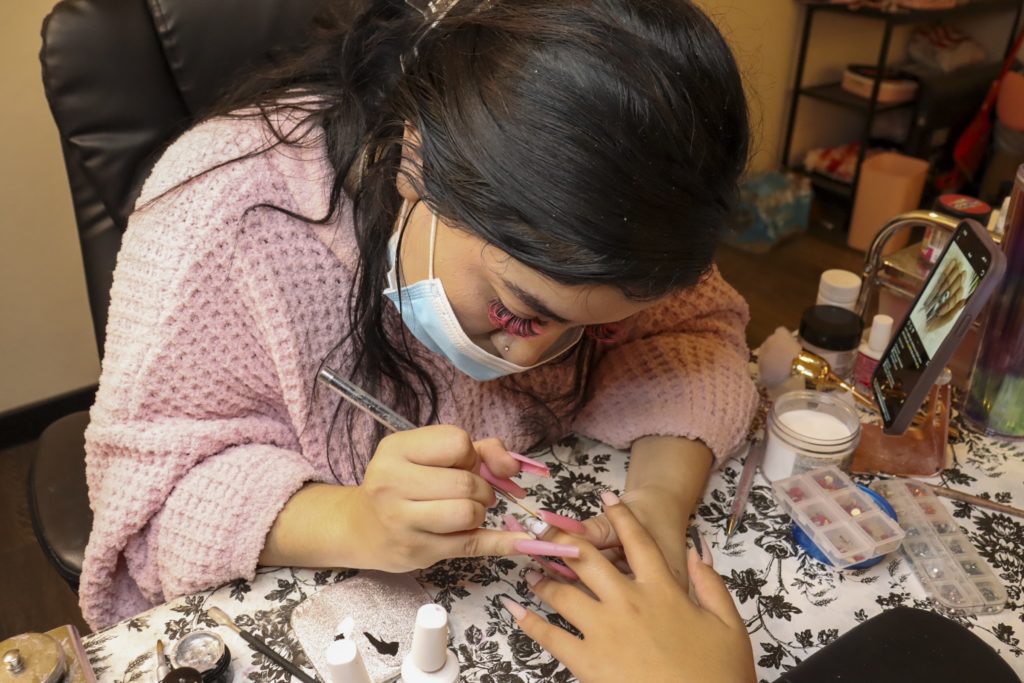 Emma Renteria, una clienta habitual de Murillo que viene en coche desde Fortuna, dice que las conversaciones mientras le hacen las uñas son divertidas por la divertida personalidad de Murillo. Al final de su sesión, Renteria sale sintiéndose fortalecida con su nuevo juego de uñas acrílicas.
"Es poderoso. Te hace sentir más bella," dijo Renteria. "¿Lo sabes? porque llevas una obra de arte encima."
Murillo dice que disfruta haciendo uñas porque ve el comportamiento de las clientas antes y después de hacerse las uñas. Ver esa transformación eleva el espíritu de Murillo.
"Es una locura cómo entre esas dos horas que les estoy haciendo las uñas y que las tienen al final, están literalmente hablando con las manos", dijo Murillo. "Están sentadas con la espalda recta, sus voces son mucho más fuertes que al principio."
Al abrir el estudio juntas y mantener negocios separados, tanto Murillo como Bautista han recibido el apoyo positivo de los miembros de la comunidad, a la vez que han creado un espacio para ellos mismos para prosperar y sentirse cómodos.
"Aquí estoy mucho más cómodo, estoy en mi propio espacio," dijo Bautista. "Somos Jenn y yo, así que es mucho más reconfortante. Puedo hacer lo que quiera aquí y decorar como quiera".
Bautista empezó a cortar pelo en 2019 cuando su hermano llegó a casa por casualidad con un par de maquinillas y le pidió a Bautista que le cortara el pelo. Bautista es un barbero autodidacta; practicaba con el pelo de sus amigos y veía muchos vídeos de YouTube.
Según Bautista, uno de sus estilos favoritos y más populares para cortar es un skin fade. Un cliente habitual, Cristian Ramírez, suele hacerse un skin fade y sigue acudiendo a Bautista por su buen rollo y su personalidad amable. Ramírez se corta el pelo cada dos semanas con Bautista y sale de la tienda sintiéndose fresco.
"Me hace sentir bien," dijo Ramírez. "Es como el dicho que dice que si te ves bien, te sientes bien y eso es más o menos lo que obtengo cuando voy a la tienda."
Puede obtener más información sobre el estudio His and Hers en su página web www.hndhstudio.com. Puede seguir a Murillo en Instagram @jennailedit. Puede seguir a Bautista en Instagram @barber_cloz. El estudio está abierto de martes a sábado de 10 a.m. a 5 p.m. en 1175 11th St, Arcata, CA 95521.
Precios de las uñas
Set completo de acrílicos de dos colores – $60-$100
Set completo de estilo libre – $65-95
Manicura – $45
Arreglo de uñas – $7
Eliminación de uñas acrílicas – $25
Precios de barbería
Desvanecimiento de la piel o reducción de la piel – $30
Juego completo de estilo libre – $75
Descoloramiento cero – $27
Corte de pelo básico – $25
Corte de pelo con zumbido – $20