Latinx couple opens a new barbershop and nail salon in Arcata
Latinx-couple, Jennifer Murillo and Carlos Bautista opened a new barbershop and nail salon called, "His and Hers Studio" in Arcata in March 2021.
Murillo, 22, who is originally from Riverside, came to Humboldt county to play soccer at College of the Redwoods and pursue a degree in kinesiology. Bautista, 22, grew up in Humboldt county and went to CR to pursue a degree in mechanical engineering. Now, Murillo and Bautista are successfully pursuing careers in the beauty industry.
Downstairs of "His and Hers Studio" you can smell a fresh cut from Bautista's barbershop and upstairs you can find Murillo's nail salon filled with nail polish on the walls.
When the COVID-19 pandemic first began Murillo's full-time job as an office worker cut her hours and during that extra free time, she picked up an old nail kit she had since she was a sophomore in high school. Something her mother gifted her because of Murillo's personal interest in creating art while doing a nail set.
"I have always been kinda of very artistic," said Murillo. "Since I was a kid I always wanted to be an artist and that's what I wanted to do. But eventually, I figured out it was hard to sell art because you can have such a small amount of an audience."
Murillo is a self-taught nail technician. At a young age, she watched hours of tutorial videos about makeup and nail application to incorporate art like gemstones, rhinestones and drawings into a nail set.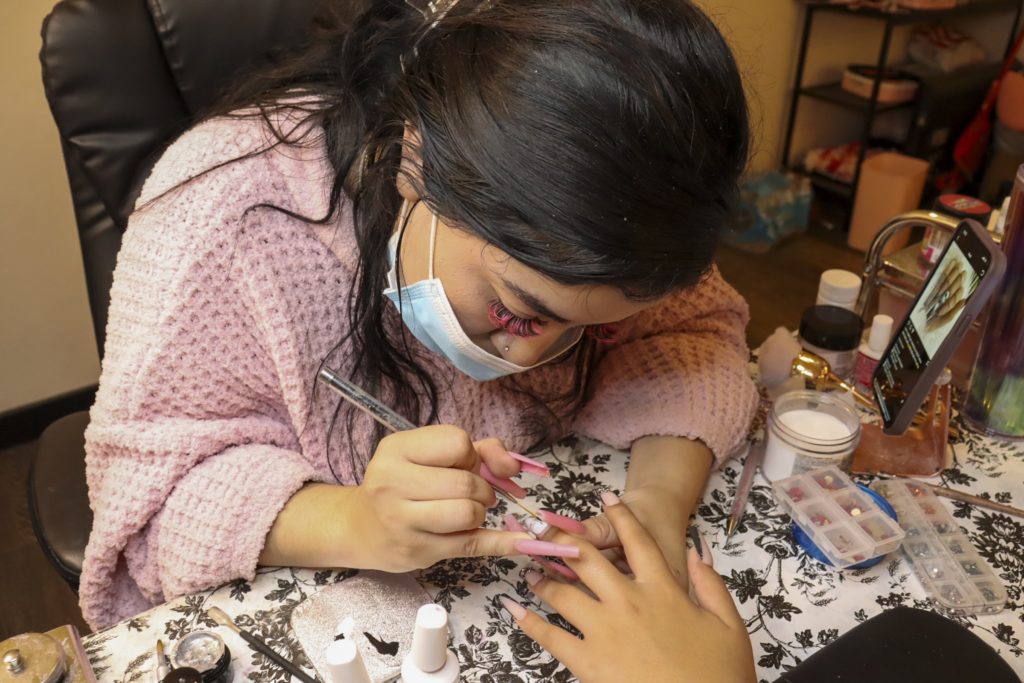 Emma Renteria, a regular client of Murillo who drives all the way from Fortuna, says that the conversations while getting her nails done are fun because of Murillo's funny personality. At the end of her session, Renteria leaves feeling empowered with her new set of acrylic nails.
"Powerful. It makes you feel more beautiful," said Renteria. "You know because you have a piece of art on you."
Murillo says that she enjoys doing nails because she sees the clients' behavior before and after they get their nails done. Seeing that transformation uplifts Murillo's spirit.
"It's so crazy how in between those two hours that I'm doing their nails and they have nails at the end, they're literally talking with their hands," Murillo said. "They're literally sitting up straight, their voices are way louder than it was in the beginning."
Opening the studio together and maintaining separate businesses, both Murillo and Bautista have received positive support from community members, while creating a space for themselves to thrive and feel comfortable.
"Here I'm a lot more comfortable, I'm in my own space," Bautista said. "It's me and Jenn so it's a lot more comforting. I can do whatever I want in here and decorate how I like."
Bautista began cutting hair in 2019 when his brother randomly came home with a pair of clippers and asked Bautista to cut his hair. Bautista is a self-taught barber; he would practice with his friends' hair and watched many Youtube videos. 
According to Bautista, one of his favorite and most popular styles to cut is skin fades. A regular client, Cristian Ramirez usually gets a skin fade and keeps coming back to Bautista due to his cool vibe and friendly personality. Ramirez gets a haircut every two weeks by Bautista and leaves the shop feeling fresh.
"It makes me feel good," Ramirez said. "It's like the saying goes you look good, you feel good and that's pretty much what I get when I go to the shop."
You can learn more information about His and Hers studio on their website www.hndhstudio.com. You can follow Murillo on Instagram @jennailedit. You can follow Bautista on Instagram @barber_cloz. The studio is open from Tues. – Sat. from 10 a.m. – 5 p.m. at 1175 11th St, Arcata, CA 95521.
Nail Pricing
Two colored acrylics full set – $60-$100
Freestyle full set – $65-95
Manicure – $45
Nail Fix – $7
Acrylic Nail Removal – $25
Barbershop Pricing
Skin fade or skin taper – $30
Freestyle FullSet – $75
Zero Fade – $27
Basic Haircut – $25
Buzz Cut – $20