22 People in Humboldt Died of COVID-19 in August
The COVID-19 death count in Humboldt County as of Aug. 31 is 75, according to the Public Health Division at the Department of Health and Human Services. Last week, the first fully vaccinated death of a person in their 70s was reported, as well as the death of someone in their 20s. DHHS reported that in total 22 people have died of COVID-19 in August. 
In the month of August, alone, the COVID-19 rate surged to just over 2,000 cases. Raising the overall number of COVID-19 cases in Humboldt to 7,000 plus since the first case was confirmed on Feb. 21, 2020.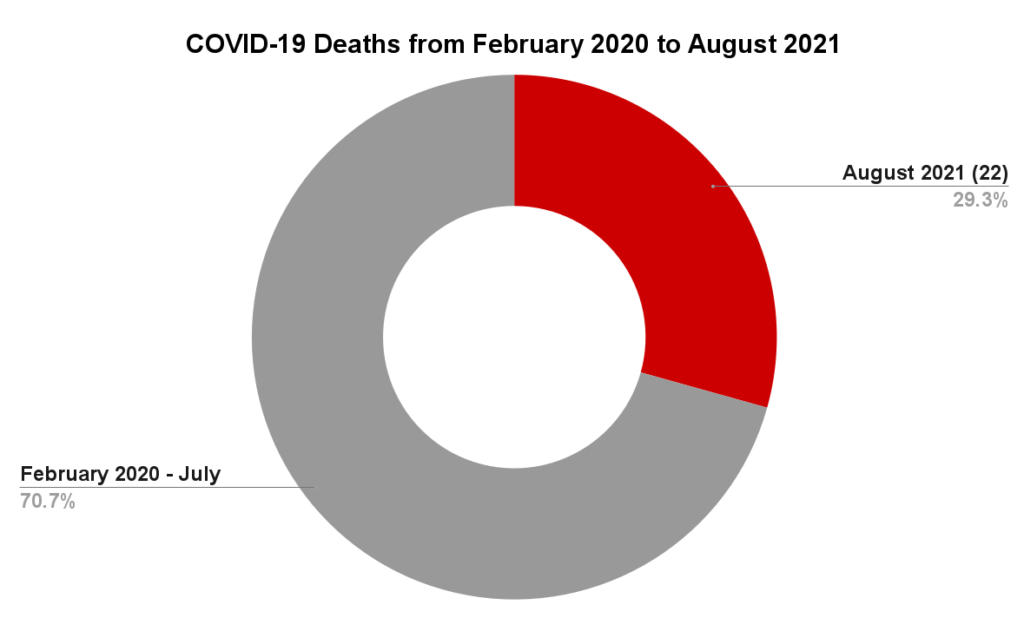 During a virtual news conference on Aug. 26, Humboldt County Health Officer Dr. Ian Hoffman emphasized the importance of vaccinations to prevent the spread of COVID-19. 

"This is really about vaccination, as we've all mentioned," Hoffman said. "The vaccination rates are directly proportional to what communities are experiencing, so the lower the vaccination rate, the worse they're experiencing this Delta surge."
As of this week, just over 71,000 people, or 52.40% of the county's population, are fully vaccinated.
DHHS reported that getting a booster vaccine on top of being fully vaccinated will help prevent immunocompromised people from contracting COVID-19.
The Pfizer and Johnson & Johnson vaccines are available this week at mobile Public Health clinics in Eureka, Samoa, and McKinleyville. The information below is from the Public Health's Joint Information Center.
---
Walk-ins are welcome, or appointments can be made in advance at MyTurn.ca.gov. For instructions in English or Spanish about how to use My Turn, go to humboldtgov.org/2872/Vaccine-Info. Public Health Clinics are available every week.
Eureka – Thursday, September 2, from 9 a.m. to 3 p.m.
College of the Redwoods (7351 Tompkins Hill Road)
Moderna/Pfizer
McKinleyville – Friday, September 3, from 11 a.m. to 2 p.m.
Six Rivers Brewery (1300 Central Ave)
Pfizer/Johnson & Johnson
Samoa – Friday, September 3, from 3:30 to 6 p.m.
Humboldt Bay Social Club (900 New Navy Base Road)
Pfizer/Johnson & Johnson
Vaccines are also available at many local pharmacies, and most allow walk-ins. To check availability of a particular vaccine at local pharmacies, visit vaccines.gov, or text a ZIP code to 438829 to find a participating pharmacy nearby.
Pfizer is authorized for those 12 and older, and Moderna and Johnson & Johnson vaccines are authorized for people age 18 and older. Minors must be accompanied by a parent or guardian.