Movie Review: 'Killers of the Flower Moon' – A Must See Untold Story
Inspired by a book published in 2017 written by David Grann, "Killers of the Flower Moon," is a new film directed by Martin Scorsese (released on Oct.
20, 2023). The film follows a martyr, Ernest Burkhart (Leonardo DiCaprio) on his path to fulfill a mission rendered to him by his uncle, William Hale (Robert De Niro), to marry a "full-blooded" Osage Woman while coordinating a series of murders with the goal to keep her family's fortune and inheritance. Both characters are fueled by this unspoken agreement to infiltrate and manipulate the Osage Tribe through marriages, deception and death.
The film takes place in the 1920s in Fairfax, Okla- homa, which is significant because tension between Native Tribes and the United States was prevalent due to the wars that took place between 1609 and 1918. The film captures the racism and envy that poor white Americans had towards the Osage Nation.
The plot centers on Mollie Burkhart (Lily Gladstone) and her three sisters, who one by one become the next target of William Hale through Ernest Burkhart to capture and assassinate. Throughout the film, we are introduced to authentic Indigenous lifestyles, spirituality and ceremonial rituals. One can appreciate the perspectives given through a delicate lens as scenes like these are rarely shown in a motion picture film or allowed to be documented due to the integrity of the act or respect given to their ancestors.
Mollie was the hero of the film. Her strength to be a mother, sister and warrior for her tribe throughout adversity and constant manipulation made by her husband and his family reminded me of what it means to be a fearless woman. In Native American cultures, Women are praised for being "givers of life" and by default, take on "caregiving" roles or the desire to help those "in need" out of love and compassion.
It was refreshing to see the majority of the cast was Indigenous. Historically, these roles were typically given to white actors with no "real-life" experience of what it means to a tribal member or to carry DNA printed by genocide.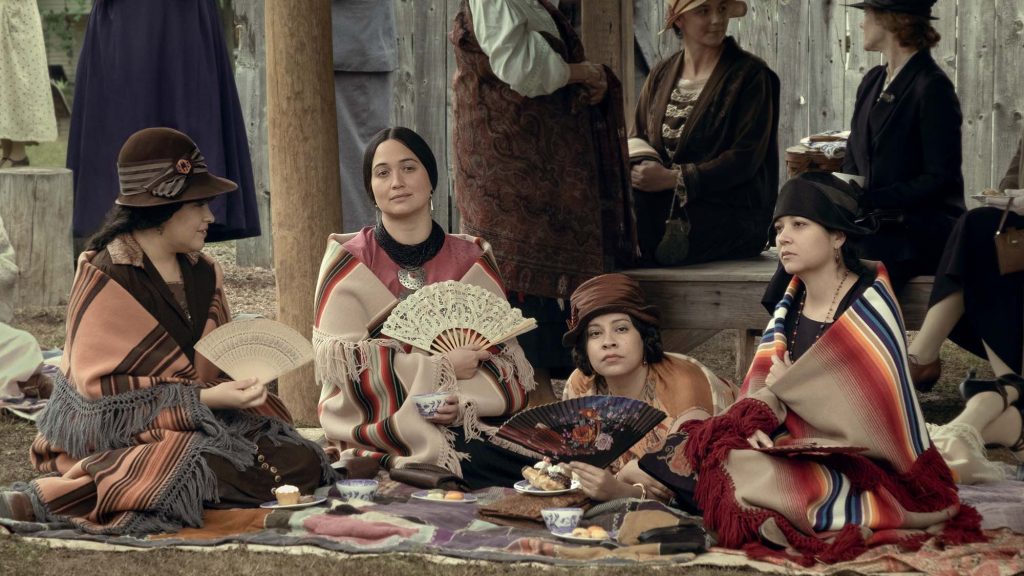 I believe the film tells stories that are worth learning about. The sIndigenous mass killings that took place in Fairfax and its surrounding areas were ignored long before the United States Government was paid by the Osage Tribe to issue an inquiry with the Federal Bureau of Investigation. I was left with the notion that corruption supersedes justice but with hope, the truth comes to light and the victims are eventually given the opportunity to tell their story.
"Killers of the Flower Moon" depicts how life was for Native Americans in Fairfax, Oklahoma, acknowledging the bloody history that happened in that area that went long ignored. | Photo courtesy of Killers of the Flower Moon website
"Killers of the Flower Moon" is available now to watch in theaters and can be streamed on Apple TV+ and Paramount Pictures.