Latinx faculty and student demographics fall 2022
During fall 2022, 7.1% of the total faculty at Cal Poly Humboldt identified as Latinx. Of the student population in fall 2022, 29.6% of students identified as Latinx according to the office of Institutional Research, Analytics and Reporting.
This is in contrast to the over representation of white faculty compared to students. In fall 2022, 70% of the faculty on campus were white and half of the students were white.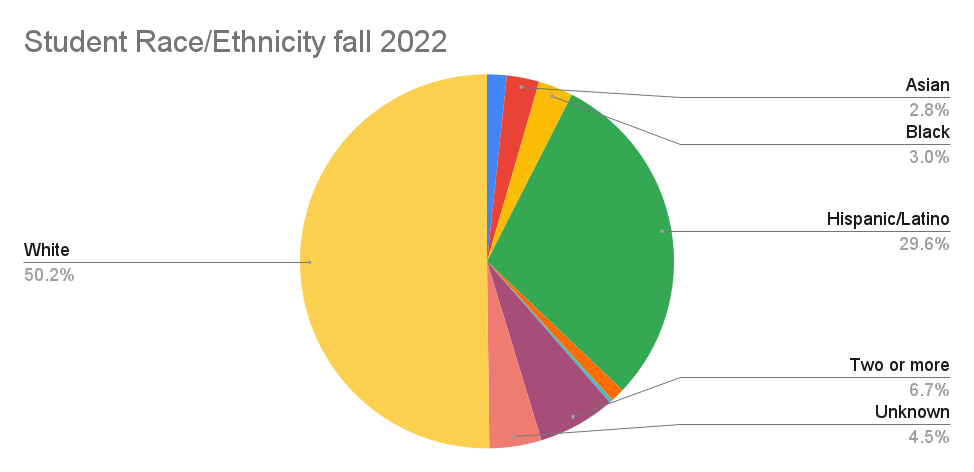 Interim Associate Vice President for Diversity, Equity and Inclusion and Campus Diversity Officer, Rosamel Benavides-Garb, said that the university is committed to making change in this area.
"Historically poly tech has been an institution that served mainly white middle class, upper middle class students. So we became a poly tech thinking that we need to change that," Benavides-Garb said.
Benavides-Garb said that hiring more Latinx faculty is a complex issue but equity is something that the school has been moving towards representation in faculty since becoming an HSI in 2013.
"Is it going to happen next year? probably not. Are we going to keep incrementing our Latinx faculty presence? Yes, there's no question about it," Benavides-Garb said.
"There's an inequity, because students of color, specifically self identified Latino Hispanic students, are not mirrored in the faculty and staff demographics," said Director of El Centro Academico Cultural Fernando Paz."As a Hispanic Serving Institution it's definitely an opportunity gap. It's a place for us to grow, I think for us to correct."
Former Associate Student President, Juan Giovanni Guerero, said the following when asked about the difference between the number of Latinx students and Latinx faculty, "That number means a lot, it means that there's a lot of work to be done."
Andrea Delgado, assistant professor in the English department and California Faculty Association member, said that in her own experience having a Latinx mentor helped her continue through higher education.
"When I first got here I was part of a new faculty cohort that was pretty big…," Delgado said. "There were only a handful of people of color and an even smaller number of women of color."
Of the Latinx faculty, 22 are self identified women and 14 are self identified men. Delgado said finding that community helped her be successful and that without them, she might have left the school.
The majority of the Latinx faculty as of fall 2022 are temporary lecturers. There are currently 22 Latinx lecturers and 15 Latinx professors.
"We rely too much on our lecturer faculty to do a lot of the heavy lifting of the institution. They teach a lot of classes and they often do it without long term job security and at a much lower salary rate than tenure folks," Delgado said.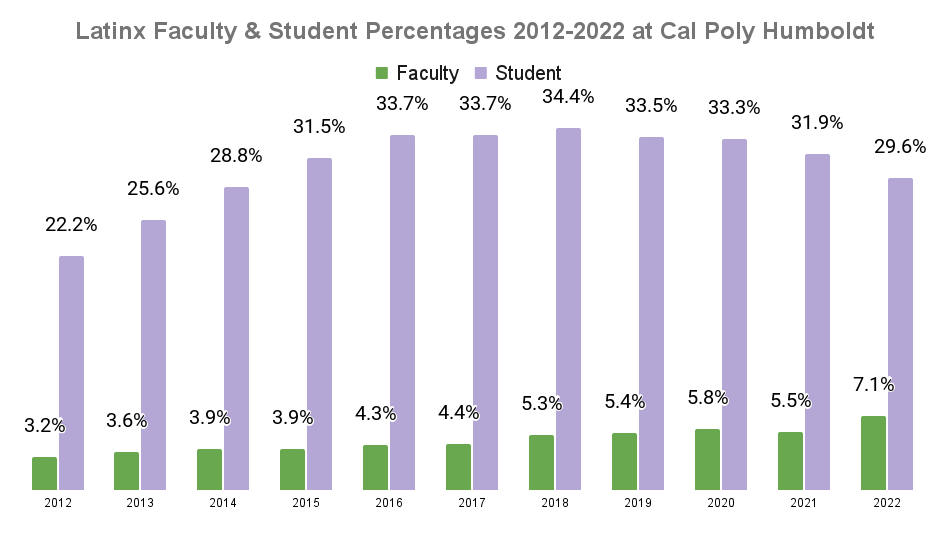 To Delgado, being an HSI means recognizing the legacy of white supremacy that exists in institutions of higher education.
"There's a lot of unlearning and undoing that needs to happen at the institutional level to really have our latinx students' best interest at heart and to honor the cultural knowledge that they bring with them," Delgado said.
Frank Hererra, director of the Social Justice and Equity Center, said that students could feel inspired by seeing people of similar backgrounds to them in higher education.
"We often find that BIPOC communities go above and beyond. They do volunteer for quite a bit of stuff," Hererra said. "That takes them to the next level too. They're being tapped not just for teaching but for representing the entire campus for those students that need those connections."