Black-owned Business Dewy's Beauty Boutique
by Karina Ramos Villalobos and Steffi Puerto
After experiencing the lack of hair & beauty products for the Black community in Humboldt- in 2016, Jessica McGruer saw the need to open Dewy's Beauty Boutique in Eureka.
"It feels good to be able to help people, especially people who look like me," McGruder said.
Before Dewey's Beauty Boutique, there wasn't a location that welcomed and helped the Black community find the right hair products. Without the right hair care products disposable to her fingertips McGruer would travel out of town or online shop for the products that fit her hair.
At Dewy's Beauty Boutique you can find products ranging from Black-owned hair care products, braiding hair, weaving hair and wigs to jewelry, butterfly hair clips, eyelashes and lip gloss.
"My boutique, to me, means the world to me," McGruer said. "It's been a humbling experience and I am really blessed to be in the situation that I am right now."
McGruder adds that she gets emotional just thinking of the business and the success it has brought her. She ultimately gets to help others that have experienced similar moments in Humboldt.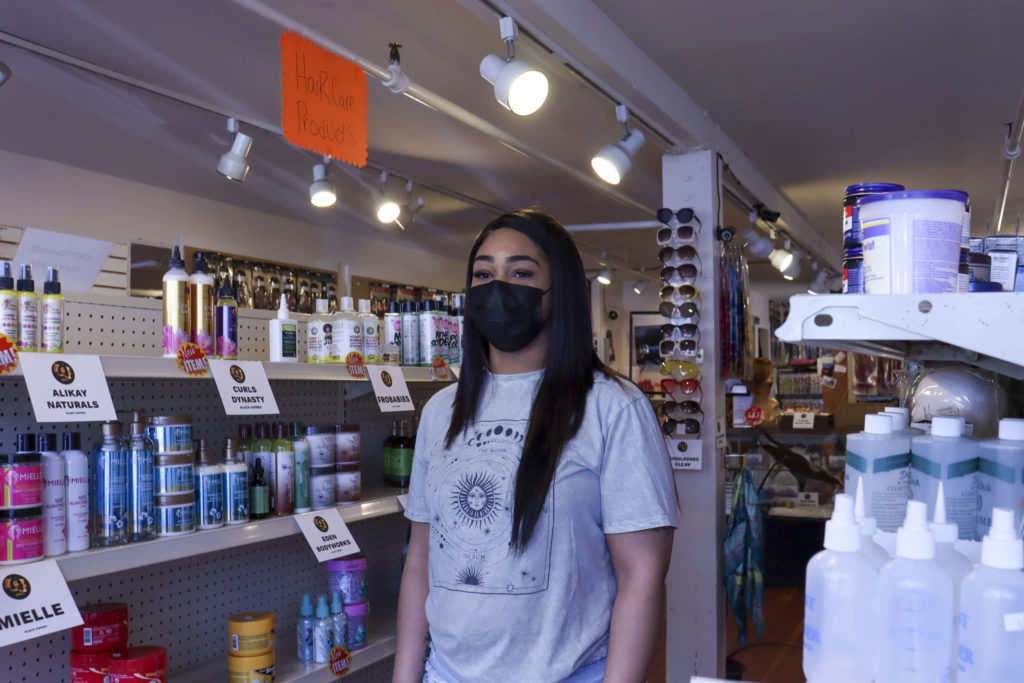 Growing up Locally
McGruder was born in Eureka and has gone back and forth to Oakland where her father's family resides. She opens up about how rough it was growing up as a biracial mixed person in Humboldt, as she found herself, like most people, not being able to fit in on one side or the other.
McGruder's sisters have played a major role in creating community and family in her life.
"It was amazing watching my sister bring Dewy's to life here in Humboldt," said Levia Love, McGruder's sister. Love is also the owner of Bling Brow Bar in Eureka.
McGruder's sisters have supported the dream of Dewy's Beauty Boutique and have collaborated with each other to make their dreams possible. According to Love, Dewy's Beauty Boutique continues to show the BIPOC community that they aren't alone and that they are loved and supported in the shop.
"When I walk into Dewy's Beauty Boutique, I feel like I'm walking into a friend's home. I feel welcomed and like they care that I'm in their shop," said customer Chryste Johnson. "They initiate conversation and genuinely care how you're doing."
McGruder wants to open a second store near Cal Poly Humboldt to make it easier for students – her main customers – to get the supplies they need.
Dewy's Beauty Boutique is located at 320 2nd St Eureka, CA 95501 and is open for business Tuesday – Saturday from 10 a.m. – 5 p.m. However, the schedule can change, for more updates or information on hours of operation or more about the business follow their Instagram page @dewysbeautyboutique.