Students want Danza Azteca to move from dance to CRGS
Disclosure: Some of the editors on El Leñador staff take part in Danza Azteca club but had no part in the reporting, writing or editing process of this story.
Students in the Danza Azteca class at Cal Poly Humboldt are working to move the course from the Dance department to the Critical Race, Gender and Sexuality Studies department because they feel the class isn't teaching the historical, cultural and spiritual aspects of Danza Azteca.
Danza Azteca taught through dance department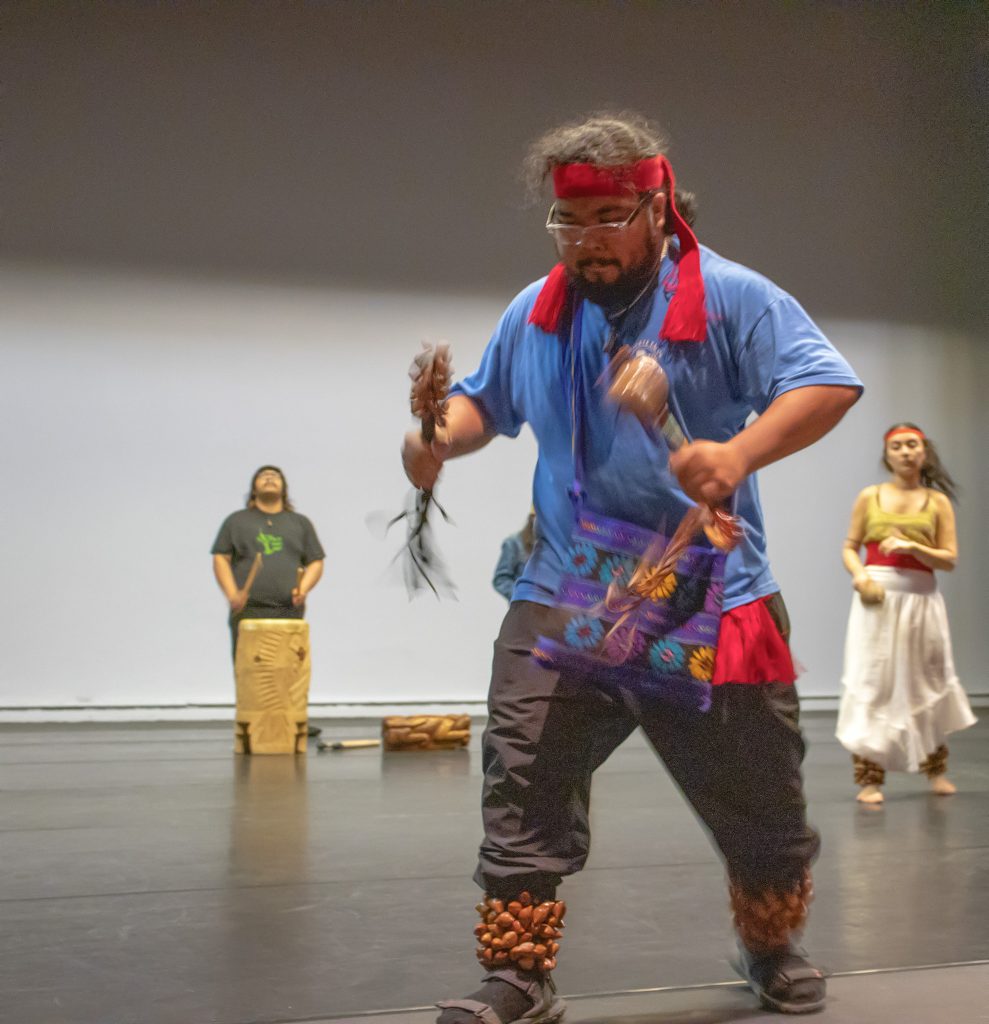 Danza Azteca taught through dance department Danza Azteca (DANC 248) is a course offered through the Department of Theatre and Dance since fall 2021. Students learn and enact the Indigenous Aztec dance, which is a cultural tradition that originates in Mexico. This class was added and offered at the university but the department didn't have a person with the experience in Danza Azteca to teach the course. Elizabeth Rivera is the instructor teaching the class with paid student assistant Frank Cortes. While Cortes is able to teach about the cultural background, he is only a student assistant.
"Since I was 5, 6 years old, I've been in the Aztec Dance or it's called 'the red road, camino rojo,' and with that building community, with that getting in touch with our own roots, and also keeping Aztec dance traditions kept going," Cortes said. "I was privileged to have that when I was younger. So now, I wanted to give whoever would like to experience or whoever wanted to, respectfully, be a part of or learn the culture and the tradition."
Cortes was unable to teach in spring 2022 because he was involved in a car accident so Rivera had to teach the class alone. Students then noticed a change because the instructor started relying on remembering the dances Cortes had shown.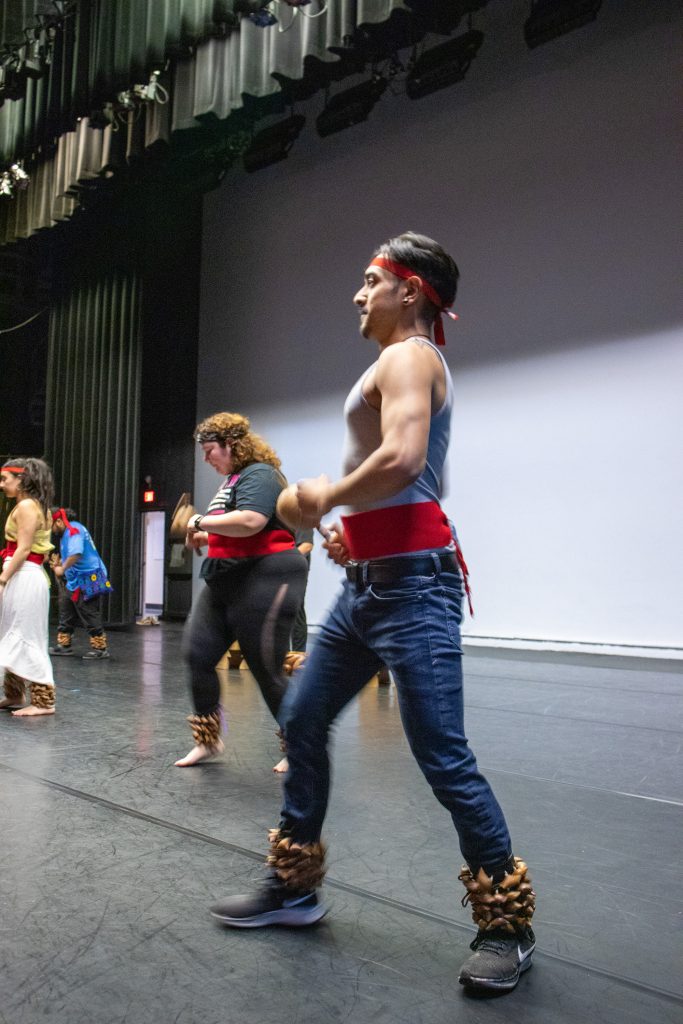 Student concerns and issues
While Cortes was gone, some students felt doubt over learning about cultural experience and dance from Rivera.
"It was very interesting, first of all, because she is white, a white-presenting person, a white person," said current Danza Azteca student Karina Juarez. "So that already I don't know how I feel about learning from somebody who doesn't seem to have the experience."
Another student, Angela Verdin, who took the class in fall 2022 added, "She [Rivera] would not only call it a performance, but she would consider it cardio. She would treat it as if it was a dance."
Cortes returned as a student assistant in fall 2022 where he was able to continue teaching the students more about Danza Azteca. While he was gone, the students were left to only learn about the dance and focus on the visual aspect.
"I wasn't learning any of the intentions that happen between any of the classes or any of the dances. I wasn't learning about what the fire meant, what the water meant, what the elements meant, what the altar was. I wasn't learning anything about what I was doing," Verdin said. "It was like I was doing all of these things but not knowing what they meant and the story behind it all. And, so when that trust was broken, it made it really hard for me to continue learning."
Rivera was contacted for an interview but she declined.
In the last week of Spring 2022, Cortes came to visit the class with his parents who were able to mentor the class because of their personal experience in Danza Azteca.
"Frank was coming in to visit with his parents and that was the first time throughout the entire semester that I realized, oh, this is what Danza Azteca is like, this is the philosophy behind it," Juarez said. "I was so welcomed into this space that had felt so near but distant to me because I wasn't learning what I needed to learn about it."
Rivera is also a co-advisor for the Danza Azteca club, which former students created and is open to students and off-campus community to further their knowledge.
"So the thing with Danza Azteca, there's a lot of philosophy," said Danza Azteca Club President Yvette Rosales. "There's a lot of spiritual practices, like you can't just go in there willy nilly and not understand what you're doing. Because it's not just dance, dance is a part of it, but it's not just dance. It's ceremony and to be aware of what you're doing."
Why move Danza to CRGS?
Students and faculty of the CRGS and Theatre and Dance departments have had recent meetings where no agreements have been made.
The Dance program wants to keep this course because Danza Azteca has a dance aspect to it.
"The dance class takes experts who know how to dance and that's probably not what is true of any of the faculty in CRGS," said Dance and Theatre Program Leader Linda Maxwell. "They're not expert dancers, would be my guess."
Both departments agree if this transition does happen it would take at least one to three years for the class to be available in the CRGS department.
"We are repeating the same mistakes if we continue to ignore students' voices, who want Danza Azteca in CRGS," said CRGS Department Chair Ramona Bell. "I say we as an institution are failing our students if we think that we can meet student's needs by having Danza Azteca in the dance program and focusing just on the dance part where folks in the dance program aren't experts in history, cultural, and spirituality disciplines, frameworks that we're the experts."
Students feel if the course continues under the Theatre and Dance department, Danza Azteca will continue to be treated like a performance.
"We're part of the music and theater and dance department but that whole department is based on entertainment and making money off of performances," said former Danza Azteca student Elias Sifuentes. "So we're trying to put this into ethnic studies or Native studies, because it is Native, it's Indigenous. It has been here for eons, time immemorial. So to get this back in this way, and then be forced to perform it and be performative about, it doesn't align right. It's obviously putting us in the same cycle of colonial settler entertainment."
Students want to make this transition happen because they are confident that CRGS will find a qualified individual who will have a cultural connection and will treat Danza Azteca appropriately.
"We want to say we're an HSI [Hispanic Serving Institution] but we're more concerned about the dollars of being an HSI and not about what students want," Bell said. "The reason why we're an HSI is because of students, because of the number of Latinx students who attend Cal Poly, and if we really want to honor our strategic plan, we have a lot of work to do. If you look at the numbers of Latinx faculty, compared to the number of Latinx students on campus, we are just disproportionately lacking. We say that we want to have representation of faculty and staff that mirror our student population, but we don't."
Students will continue to communicate with both departments to give Danza Azteca justice.
"We are not putting up this fight for us, we are putting up this fight for the next generation of people that are going to be looking for this culture, for this prayer, for this medicine, that are going to be walking through this institution that is hard enough already," Juarez said. "Ultimately, we don't want those students to go through what we're going through right now."