Ponce 0.1: Chicano rapper in Arcata
Latino music has come a long way from its roots of more traditional-based rhythms, to what many would call classics to now. The culture is expanding to many different genres; one of these genres that people may be surprised is becoming popular in many parts of Mexico, is rap.
Carlos Ponce, or Ponce 0.1, is creating Chicano rap in the North Coast. He wants to take the genre to new heights. Ponce grew up in Tangüecho, Mexico and started rapping at 12 years old.
"I would go out to the streets, heading to the local store, and as we were there in the store, we would drop some rhymes with some homies there, living it like a fun time," said Ponce.
Although rap is popular and mainstream here in the states, the genre is still stigmatized as vulgar and obscene in Mexico. For this reason, he was forced to hide his music and his passion from his parents. They were not adherent to rap music with the vulgar words that are used and talking about what they would deem as inappropriate.
"Maybe they still don't hear that music, but I personally feel good in knowing I've kept doing this. I've never stopped since now. I've kept making songs and I feel good about it," said Ponce. "And maybe one day, at some point they'll hear my music and be more accepting about it, like, 'damn, I didn't know you did this."
Ponce taught himself how to produce his own music over the course of nine years. "I do my own songs. I produce everything; I fix my voices, I put my effects into it, I do all the mastering for my songs. And if anybody would want to make songs, I can do all the mastering for other artists' music too," he said.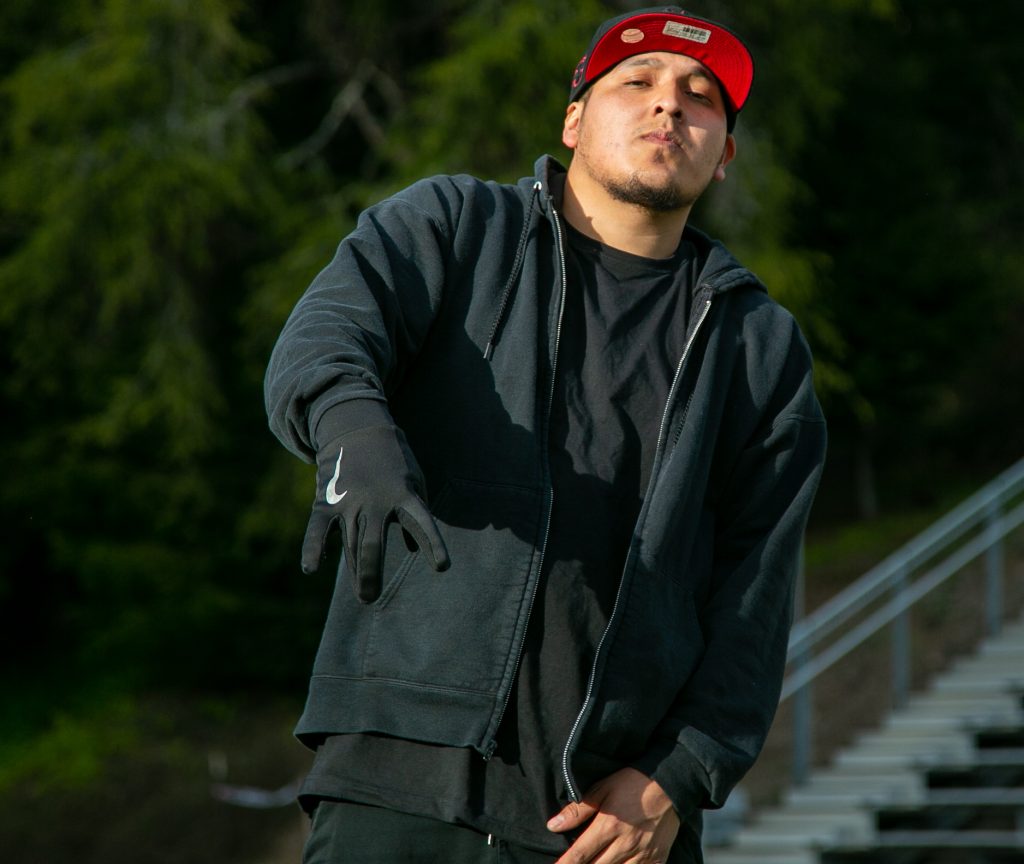 Ponce got the name "Ponce 0.1" by combining his last name with a code from his neighborhood. "Everybody has always known me as Ponce. Ever since I was a kid, it was always 'Ponce this, Ponce that, always Ponce,'" Ponce said. "And the 0.1, that's kind of a code from where I live, from my neighborhood."
Ponce experienced some violence in his life as a kid. However, as bad as those occurrences were, there were not that many when he was growing up, not until as a grown adult did it start getting really dangerous.
"One day the police came, there was an argument between some people, when suddenly bullets started being fired," said Ponce. "I remember one time too. Being over there at a plaza, and how I heard some people talking about someone they killed, how they killed him, where they buried it."
Around that time, an opportunity arose. He alternates between living in Mexico and Arcata on an H-2A visa. He comes and goes as they need him for work.
"… I spent ten months here and then spent two months back in my house [in Mexico]. Right now I have five months left until I gotta go back."
Ponce is influenced by Mexican rappers like Santa Fe Klan, Kodigo 36, C-Kan and other artists from the area. He is also inspired by original Death Row Records members like Tupac, Ice Cube and Snoop Dogg.
Ponce is also interested in branching out his music into new genres like trap, which incorporates busy hi-hats, heavy sub-bass and super rhythmic snares, into his productions.
"I'm willing to do a collaboration if I were ever to run into someone that's in rap or trap. Trap is a genre I'd definitely get into," he said. "We have the style to get in whatever type of base. We know how the music moves too, just that right now it's more about rap, but if there ever was anybody like that, that would be willing to collaborate whenever, of course, we'd definitely jump at such an opportunity."
Ponce has over 4.5k views on his youtube channel where he posts music videos and songs. These videos are not all of his songs. He said, "I have songs in my cell phone from years back. I have them there and never recorded them because I feel like their time has passed. It doesn't interest me anymore in recording them because I'm not in that moment anymore as a young kid."
Although he currently doesn't have any performances planned, he also performs at the Arcata Plaza from time to time. When asked what would do if he became world-famous, Ponce answered "To continue always writing, because it's never enough. If some people are able to identify with some of my songs, that isn't to stop right there and just say, 'oh I'm finally now famous.' It's always about more writing. I've always done this since I was little because it's what I like, so just always keep writing."