Recipe vegan: Spicy Cauliflower Ceviche
Cauliflower ceviche is a perfect recipe if you don't like fish, if you love cauliflower, and/or if you just want to try something new that's vegan and vegetarian friendly.
Ceviche is the perfect meal to eat on a hot day because of the fresh tomato, onion, cucumber, and lime that refresh you with every single bite. The dish has various renditions throughout Central America and Mexico. Originally from Peru, it's considered Peru's national dish.
During my time in college I have really enjoyed experimenting with different ways to cook healthy. I take my mom's traditional Mexican recipes and add flavors and various ingredients that I have grown to like. Spicy cauliflower ceviche is one of the recipes that I have created and have grown to love.
I love ceviche because it can be eaten in various different ways. By substituting, adding, or replacing various different ingredients you can always enjoy a bowl of fresh ceviche on any occasion. All you need is avocado, hot sauce, and tostada chips to fully enjoy ceviche.
Spicy Cauliflower Ceviche
Cook Time + Preparation: 30 minutes
Serving Size: 5 people
Ingredients
2 cauliflower heads
8 cups of water (set aside to boil cauliflower)
2 roma tomatoes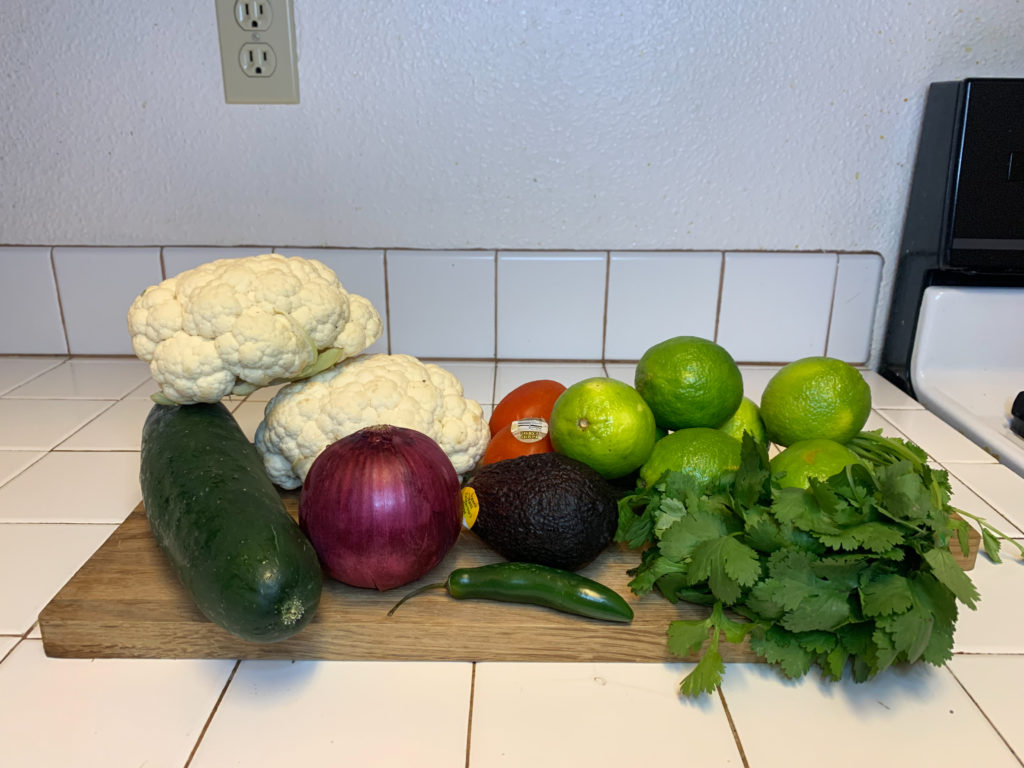 1 red onion
2 cucumbers
8 limes
2 jalapenos
1 bunch cilantro
1 tablespoon of garlic powder
1 tablespoon of lemon pepper
6 tablespoon of salt (divided in boiling water and aside for seasoning purposes)
2 avocados
1 bag of tostadas or tostada chips
Preparation:
Rinse all of the vegetables, and set them aside with a cutting board and knife at hand.
Add 5 tbsp of salt into a pot of boiling water with your two cauliflower heads cut in half. Let cauliflower boil for up to 15 to 20 minutes or until soft.
While the cauliflower boils start by dicing up your vegetables. Cut cucumber into small 1-inch pieces and add to a giant bowl.
Continue by dicing tomato, onion, cilantro, limes, and jalapaños (leave seeds if you want it more spicy) into 1-inch pieces. Then add to the rest of the bowl with the diced cucumber.
After your cauliflower is soft, drain it in a colander and put it in a bowl of cold water with ice for 5-8 min. After it's cooled remove cauliflower from the bowl and drain it again, then place it on a cutting board. Dice all of the cauliflower into small 1-inch pieces.
Now we can drain the diced cauliflower by using a clean paper towel or dish towel to remove the extra moisture.
Add the cauliflower to the bowl with the other vegetables.
Squeeze the lime juice out of your cut limes into the cauliflower and other vegetables.
Then add the garlic powder, lemon pepper, and 1 tablespoon of salt into the mixture.
Mix everything together. Cover tightly and refrigerate for 30 minutes.
Serve with some sliced avocado and tostada chips. Enjoy!