Comfort food of the month: Chipotle Caldo De Pollo
Caldo de Pollo is a classic recipe that brings much joy and horror to Latinos everywhere. Although comforting, warm, and fulfilling on a sick or cold day, it is also the enemy of most of us when we come home on a hot summer day and ask "Qué hay de comer?" and to our surprise we hear "Hise caldo de pollo".
Nonetheless this recipe has become much more appreciated as I've moved away from home. Making Caldo de pollo now brings such a warm feeling to my stomach and soul, especially during the cold winter nights here in Humboldt County.
This caldo de pollo is different from others you might have had. There's a kick of spice from the chipotle chiles in the broth that adds flavor to the soft squash, potatoes and carrots. As you roll up your tortilla and dip into the soup you feel all the comfort of being at home with family surrounded by the spicy and tasty aroma that fills up your house.
I learned this recipe from my mom, she always says that food is always better spicy. This recipe proves that point. Caldo de pollo is a recipe that anyone can enjoy, and the best part is you can create various alternatives of making it. It's about what feels right to you.
Chipotle Caldo de Pollo
Cook time + Preparation : 1 hour
Serving Size : 4 people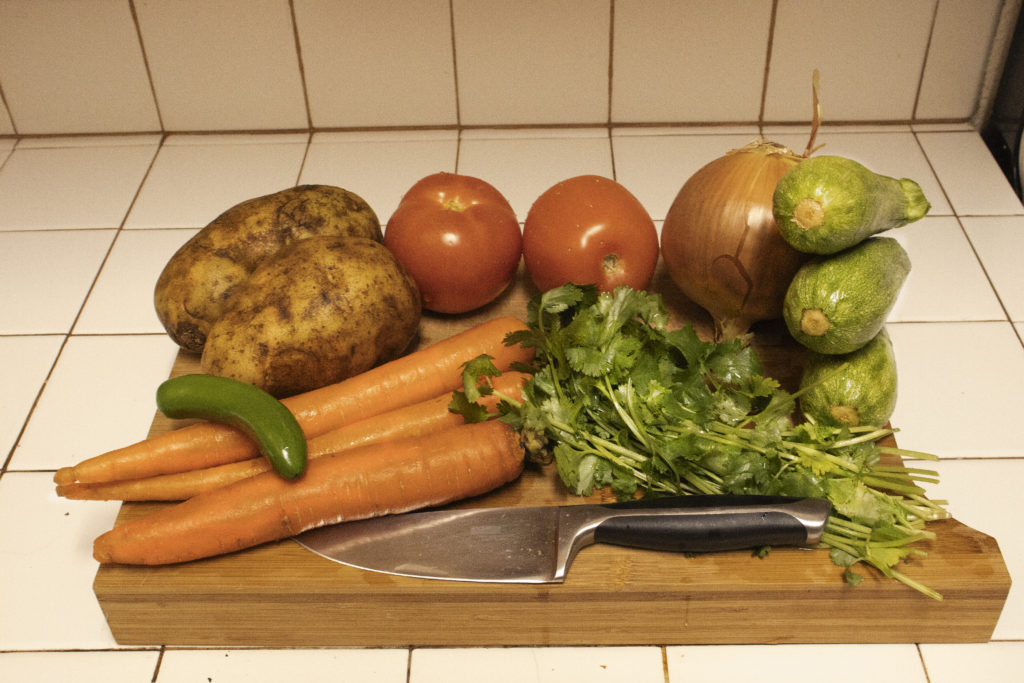 Ingredients:
4 bone in chicken legs
2 chicken breasts
8 cups water, divided (7 cups for chicken broth, 1 cup for the salsa)
1 tablespoon oil (olive, vegetable, canola, etc.)
1 chile serrano, chopped
2 tomatoes, cut in quarters
2 tomatoes, cut in quarters
3 carrots, diced 2 inch pieces
3 carrots, diced 2 inch pieces
3 potatoes, diced into 2 inch wedges
1 tablespoon of oil (Olive, vegetable, canola, etc.)
One tablespoon of chicken bullion
1 teaspoon salt
1 bunch cilantro, rough chopped
1 (7 ounce can) chipotle (you will use 2 chiles and 2 tablespoons of the sauce)
Limes, cut in quarters
Preparation:
Rinse and clean the chicken, then cut each chicken breast into four pieces. Set aside.
Wash vegetables, then set them aside.
Cut up the vegetables for the soup: the potatoes, squash, and carrots. Set aside.
Cut up the vegetables for the broth: chile serrano (leave the seeds if you like it spicy), tomatoes, cilantro, and onion. Set aside with an opened can of chipotle chile.
Fill a large pot with 7 cups of water and add in the chicken, 3/4 onion and salt. Bring the water to a boil and reduce heat to simmer for 20 minutes with a lid on, then set to the side.
While the chicken cooks, start the ingredients for the broth. In a saucepan on low-medium heat, add 2 tablespoons of oil, the diced tomatoes, a diced chile serrano, 2 chile chipotles and the approximately 2 tablespoons of the chipotle sauce, the remaining onion and cilantro. Saute for 5-8 minutes.
After your ingredients turn light brown color and soft, add the ingredients from the saucepan to a blender with a cup of cool water, a tablespoon of chicken bouillon. Blend until it salsa consistency.
Strain the mixture over the pot with the chicken. Pour 1 cup of water over the strainer to get the full flavor for the broth. Place the pot back on the stove on low heat, with a lid. Let the soup simmer for 8 to 10 minutes.
Add in the carrots, squash and potatoes and cook with the lid on for 20-30 more minutes, until the vegetables are tender, and to your liking.
Serve with corn tortillas, lime, Tapatio and enjoy!
Photos by Steffi Puerto