Fernando Paz moves from El Centro to ODEI
Fernando Paz has left his position as coordinator of El Centro Académico Cultural as of June 1. He is now the Campus and Community Coordinator at the Office of Diversity, Equity, and Inclusion (ODEI) at Cal Poly Humboldt.
Paz moved to Arcata in 2005, from Los Angeles. He graduated from CPH in 2008 with a double major in history and ethnic studies. He has been an active member in organizations after the Sunvalley Flower Farm ICE raid in September of 2008. He has been part of community activism and organizations like Food not Bombs, Puente, MEChA, Acción Zapatista de Humboldt, PARA, LatinoNet and True North. He came back to the university as the interim coordinator of El Centro in 2017. Currently, he is working on his master's degree in Environmental and Community Studies at CPH, which he started in 2013.
"It was difficult for me to leave my position, I thought about it a lot and when I got a chance, I applied without knowing if I was going to take it," Paz said. "But when I finally decided to take it because I didn't see a way for me to make progress in my career with El Centro. Because I reached until I couldn't anymore."
The ODEI is a center for advocacy and diversity that aims to acknowledge and change current systems in place. ODEI offers support for academic excellence for both students and community members. Paz is working with the university and community through Equity Arcata, and with the community event Festejando Nuestra Comunidad.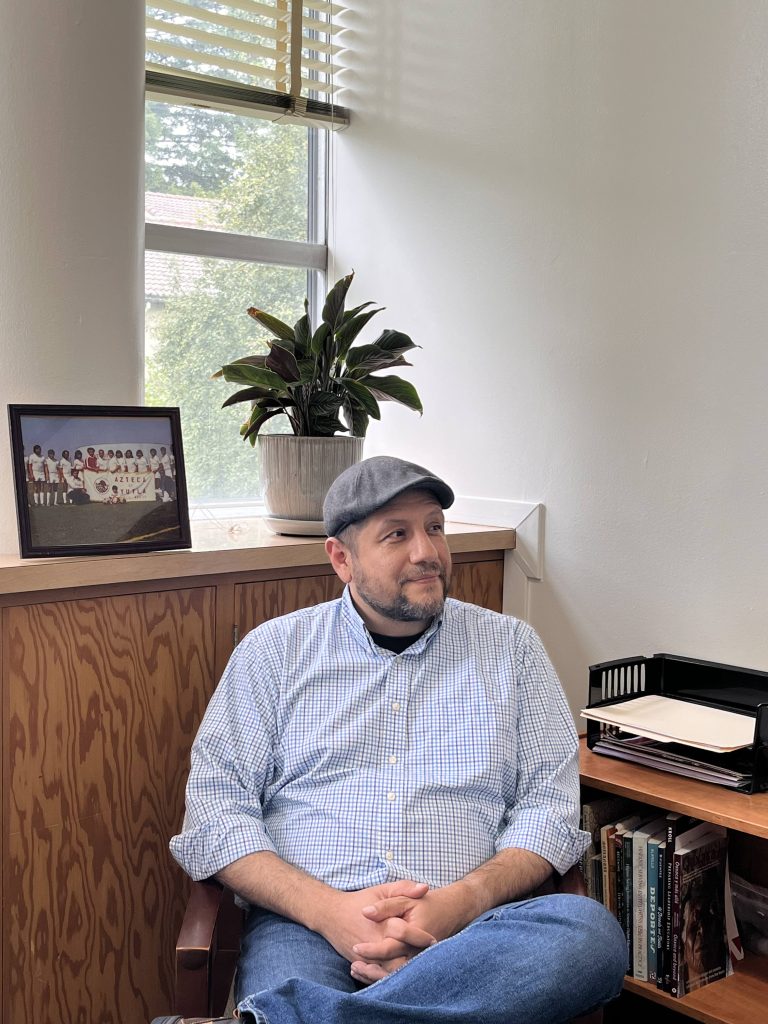 Abraham Neri graduated in spring 2023 from CPH with a bachelor's degree in Critical, Race, Gender and Sexuality Studies with an emphasis in ethnic studies and a minor in Native American Studies.
Neri was a member of the Diverse Male Scholar Initiative (DMSI) for about three years and said it brought him a "sense of community." He worked closely with Paz and describes him as a mentor who nurtured him with healthy and positive masculinity.
"Knowing that he might not be as accessible as he once was, but knowing where he is now, he might be able…to bring that greater change that we students of color need and want to see happen," Neri said.
Anabel Ojeda is a kinesiology major, who is set to graduate in fall 2024. As the current president of the Latinx Community Club, she explained that it has been a "positive and empowering" experience working closely with Paz.
"I feel great about Fernando moving up to the Office of Diversity, Equity, and Inclusion, as he… is still working as he was at El Centro to have Humboldt State cater to its Latinx students as it's a Hispanic Serving Institute," she said.
Paz is now focusing on creating a workshop regarding ethics of care. He wants to lead workshops on professional development for medicine and law and for students that are seeking doctorates in engineering, technology or mathematics.
"For me to work in the community, in the university tied to our community, is to recognize how racism, colorism exists, and most importantly now in this new platform because there are Indigenous communities, African American communities, Asian communities… We are also working with those themes because the talk around racism is different in different communities." Paz said.
Looking towards the future, Paz would like to keep being a link between the university and the local Latinx community as well as the other POC communities, and a mentor for what is possible when someone has obtained their degree. He stays optimistic to see all the changes in the Latinx community at the university and the city.
"He does a very great job connecting with me besides the club, and just seeing where I am at, if I'm struggling with anything and seeing what ways he can help me out. He overall makes me feel like my opinion matters and like I have a say… I've never really had a faculty member want to connect with me in that type of way and make me feel important," Ojeda said.