Saboreando Barbados con el restaurante Taste of Bim
En las paredes azules y amarillos los cuadros de flores cuelgan, un rico olor viene de la cocina y se queda sobre el comedor. Dos mujeres se mueven por la cocina, preparando comidas caribeñas hechas a mano para sus clientes.
Gabrielle Long, propietaria de Taste of Bim, lo llama "un pedazo de hogar lejos del hogar."
Taste of Bim ha estado sirviendo platos del país de origen de Long desde 2015. Long llegó a los Estados Unidos desde Barbados cuando tenía 16 años, trayendo su cultura y recetas con ella.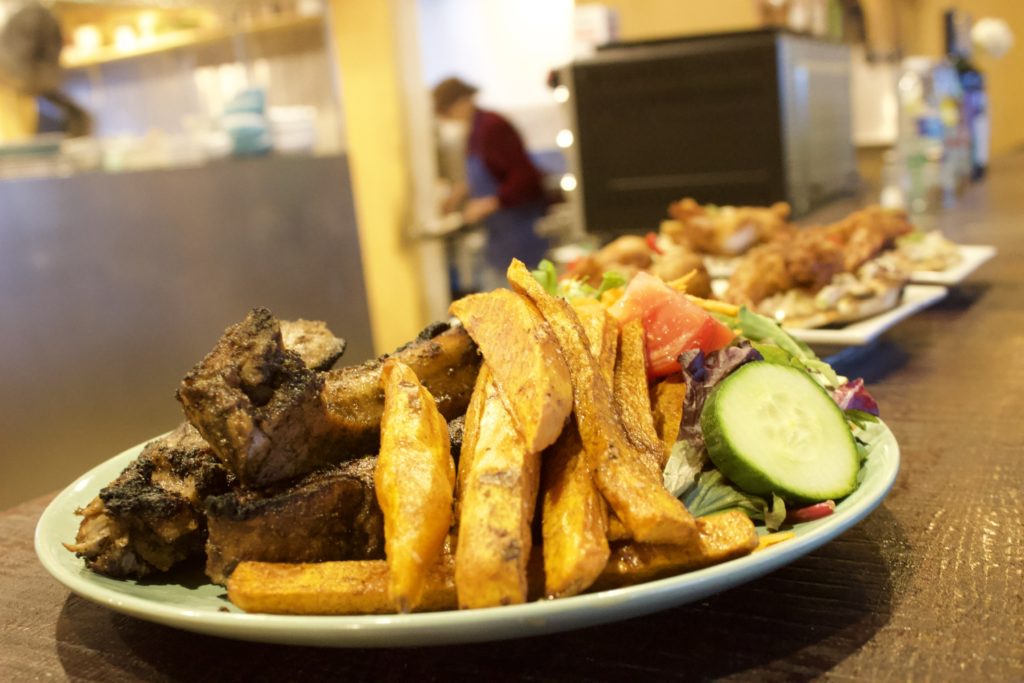 En este momento, Long y su equipo trabajan en el local principal de Taste of Bim en Eureka, un camión de comida Taste of Bim para eventos de servicio de comida y The Grind Café, una cafetería en Eureka. Recientemente, se abrió una nueva ubicación de Taste of Bim en College Creek Marketplace de Cal Poly Humboldt el 2 de febrero.
Long espera que sus negocios sigan avanzando día a día.
Comida de la tierra
Long compartió que estos alimentos vienen de una cultura de hacer comidas con lo que estaba en el vecindario. Cocinar con ingredientes del árbol del vecino o del patio trasero.
Estos sabores y tradiciones están muy lejos de casa, pero de todos modos encuentran una manera de conectarse con la comunidad. Durante mucho tiempo explicó que algunas personas no estaban familiarizadas con los platillos, pero los sabores se ganarían a la gente una vez que lo probaran.
Durante la pandemia de COVID-19 Long y su madre, Verna Long, mantuvieron el restaurante funcionando sólo con pedidos para llevar.
"Fue un reto al principio, tuvimos que prepararnos mucho antes de tiempo para facilitar el proceso," dijo Long. "Teníamos el amor de la comunidad detrás de nosotros."
Comunidad en crecimiento con nuevas ubicaciones
En su nueva ubicación de Taste of Bim en College Creek Marketplace, los estudiantes pueden comprar artículos selectos del menú Taste of Bim.
Dillon Harp, un empleado del nuevo Taste of Bim, dijo que trabajar allí le hizo sentir conectado con su cultura. Harp tiene familia en el Caribe y dijo que se sentía cómodo trabajando allí con alimentos que conocía.
Harp compartió que él ve Long como una hermosa ejemplo de la excelencia nNgra y el liderazgo femenino Negro.
Debbie Lennox, una camarera de seis años en Taste of Bim en el local principal en Eureka, dijo que mientras trabajaba como camarera durante 35 años, este ha sido su empleo favorito. Le encanta trabajar con Taste of Bim y está feliz de ver los nuevos restaurantes abiertos de Long, alrededor de Humboldt.
Algunos de los platos más populares en la ubicación Taste of Bim son las alas de jerk, pollo frito al estilo de la isla, y los diferentes curry que ofrecen.
Uno puede visitar la ubicación principal de Taste of Bim en 613 3rd Street en Eureka y el Grind Café en 734 5th St en Eureka.