United Indian Health Services Host Annual Harvest Party
Children were dressed as mermaids and monsters, and even a miniature porcupine, while playing an array of fair games in the name of community and health.
The United Indian Health Services (UIHS) hosted their 17th annual Harvest Party at the Potawot Community Food Garden on Friday, Oct. 19. The event was primarily for Native American children and families, but the larger community was welcomed, according to organizer Ed Mata.
"The goal is part of a communication and community gathering so that families can stay closer together and people can meet each other here," Mata said.
Children were able to enjoy toys and an assortment of activities such as face painting, hayrides, apple peeling, a pumpkin walk, parachute-toss and a ring-toss.  
"The kids come from all over the outlying areas," Mata said. "There's mainly Klamath, Weitchpec, the local area and really anybody, but because it's geared toward the Native American children we try to keep it within that realm."
Mata said that the festival has stayed consistent throughout the years with minor changes like this year's new circus tent and placement of the hayride. She also said that volunteer efforts contributed to the success of the event.
"You know the volunteers are a big part of this event or otherwise it wouldn't go on," Mata said. "We really need our volunteers."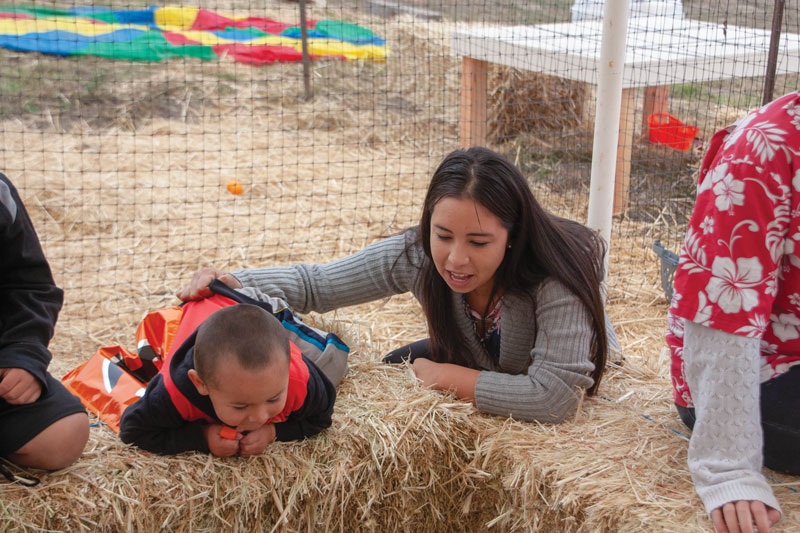 Humboldt State University student, and recreation administration major, Emily Wood was one of many HSU students who volunteered and helped with the logistics of the festival as part of a REC 220 class.
"To work so closely with UIHS means a lot to me and helping in whatever I can," Wood said. "It helps me feel a lot closer to the culture and learn more about it."  
These students worked alongside UIHS for about two months preparing activities and spreading information about the event.
"It's really rewarding getting to work with this community because I don't believe it would be an opportunity that I would otherwise be privileged to get besides just volunteering at the Farmer's Market," Wood said.