Community Discusses Immigrant Safety Fears and Ballot Initiative
Heightened fears from the undocumented immigrant community propelled private citizens into action and in a few weeks the fruition of their activism surrounding Measure K will change Humboldt County.
"I will continue to talk, to continue to have a relationship and try to build trust whether Measure K passes or fails," County Sheriff William Honsal said.
Measure K is a ballot initiative that would prevent local law enforcement from aiding federal law enforcement, specifically the Immigration and Customs Enforcement. The measure states that it supports keeping families together.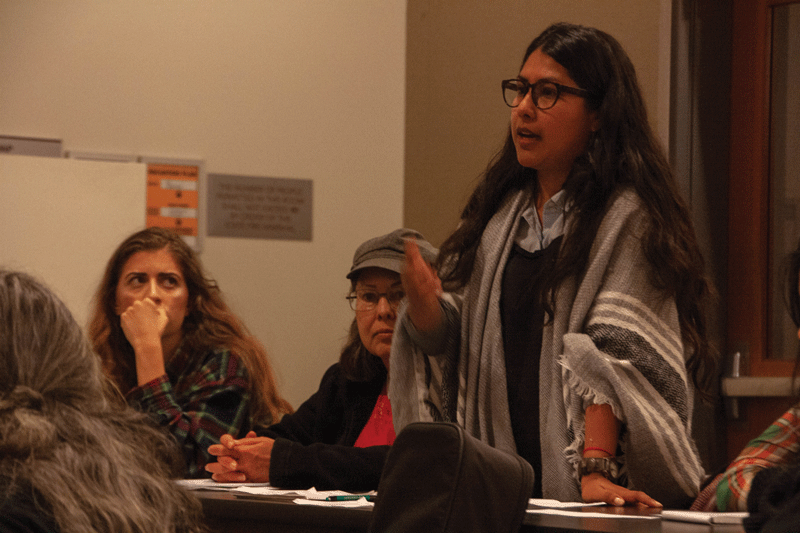 An open forum with Honsal, students, residents and professors regarding immigration, public safety and the impact of Measure K in Humboldt County occurred on Oct. 24 at Humboldt State University.
The event consisted of five panelists: local lawyer and author of the measure Erik Kirk, member of the Women's International League for Peace and Freedom Linda Evans, HSU student and representative of Scholars Without Borders Anayeli Auza, HSU student and member of Centro del Pueblo Monica Garcia and Honsal.
"I don't see Measure K just about immigration policy, but about what kind of community we want to be," Kirk said. "What are our values?  Do we value all people of our community who live here, even those who are undocumented and those who come from different areas?"
The panelists talked about their connections to immigration. Then went on to address issues and questions about concerns and safety of the immigrant community.
Community Concerns
Supporters of Measure K, Kirk, Evans, Auza and Garcia, spoke about the positive impact the initiative would provide to Humboldt County. It would start by reassuring and creating a sense of security for undocumented immigrants.
"I believe that the immigration laws are a form of Jim Crow as they are," Kirk said. "Measure K to me represents that we stand with the local community."
However, Honsal said that Measure K does not ensure safety. Honsal also reminded everybody that Measure K restricts law enforcement and county governments in communicating with Homeland Security regarding immigration issues.
"And all I think here is that if you pass Measure K, it's giving a false sense of security because the only people here that enforce immigration is ICE," Honsal said. "And immigration enforcement does not have to pay attention to our measure."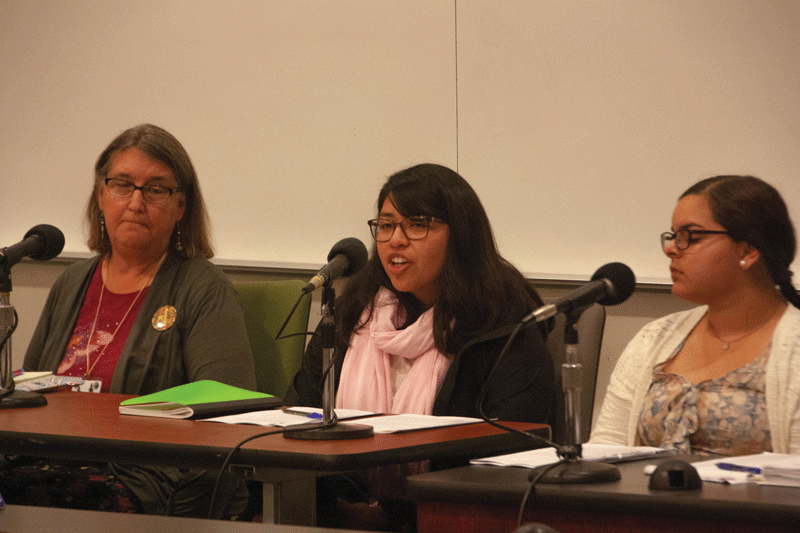 Family and the Future
Local teacher Christina Lastra brought up concerns about the suffering of children whose families have seperated because of the immigration laws in place.  
"I'm just going to do what I can to get people to vote yes on Measure K and to do so at a humanitarian level," Lastra said. "Not at a political level but as a human being."
At the end of the forum, both sides did agree, whether or not Measure K passes or fails on Nov. 6, that moving forward more action and relationship building was necessary to create security in the undocumented community.
"I hope to see changes and I pray to Jesus that this measure passes," Lastra said.
PREVIEW/ANNOUNCING EVENT
On Nov. 4, the Vote Yes on Measure K committee will organize Traditional Day of the Dead Procession and Celebration.
The committee and participants will meet at 5:30 a.m. and begin their journey at 6 a.m. at St. Joseph Church in Fortuna. According to Emily Velez, member of Centro del Pueblo, the walk is how they want to end the campaign trail for Measure K before the midterm elections on Nov. 6.  
"It was our way of trying to event get a hair of understanding of what individuals go through [while crossing the border]," Velez said.
After the group will take a break at the Eureka North Co-Op around 1 p.m. before their last leg of the journey toward the county courthouse in Eureka.  
Once at their final destination, the group will celebrate and honor immigrants who have lost their lives trying to cross the border with an alter. Velez also said that there would be food and live mariachi as well.